Posted in by John Brown on February 18th, 2010
Servant of a Dark God
Read Chapters 1-4 | Praise | Cool Stuff
Synopsis
The launch of a towering new fantasy series introduces an elaborate new world, a strange and dark system of magic, and a cast of compelling characters and monsters. 
There are three vitalities—the body, the soul, and the Fire which brings the other two to life. Young Talen lives in a world where a person's Fire can be harvested, or stolen, and used by another to work powerful magics. The great Divines protect the people from those who would rob them of their Fire. But the Divine that protects the clans of Talen's land has disappeared.
All think he is lost, but he is not lost—he was harvested. His Fire and soul were put into a body of grass and stone and turned into a servant of something far more powerful. Something sinister. Something that ranches humans for the flesh of their souls. A being of awesome power has emerged to take back the human herds that are rightfully hers.  Her first order of business is to secure the one she selected many years ago to be her overseer.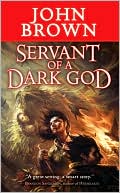 Trapped in a web of lies and ancient secrets, Talen must struggle against family and foe to identify his true enemy before he's transformed . . . into the very lord of the human harvest.
Praise
~ Best Novel of the Year Whitney Awards, speculative fiction
~ Engrossing Publishers Weekly
~ Provocative Booklist
~ Starred Review! Library Journal
~ A great setting, a smart story Brandon Sanderson
Available in Paperback
Copyright © 2009 John Brown. A Tor Book – Published by Tom Doherty Associates, LLC. Jacket art by Raymond Swanland
Curse of a Dark God
The second volume in the Dark God saga–will humanity be able to stand against the might of Mokad? 
Estimated release date: August, 2013.  For the announcement, see "Curse of a Dark God has a release date!"
Dark God's Glory
The concluding volume of the Dark God saga–you thought you knew the truth . . . 
In development: release date TBD.
Enjoy My Shorts!

The future is found in the folds . . .
Okay, not those kinds of shorts (while I do write fantasy, I have scrupulously resisted the temptation to dabble in the arts of the underwear occult). I'm talking about my published short stories. You'll find them below. Give them a go while waiting for the next novel!
 
 

Bright Waters

A fearsome Dutch trapper, a spunky Irish woman stolen as a girl in an Abenaki raid, and a small Iroquois tattoo . . .

 
 

From the Clay of His Heart

It's your typical girl-meets-golem, girl-can't-rid-of-golem, girl-almost-loses-golem-to-evil-volhov story. You know how those go.

 
 

Loose in the Wires

Hick falls in love. Hick gets dumped. Hick brings back two African gods from Botswana to heal girlfriend's fickle nature and arthritis . . .

 
 

The Scent of Desire

Ronald Wolf knew his deceased lovers had come back to make trouble when a large mallard tumbled like a drunkard out of a blue sky and smashed onto his porch . . .
Miscellanea
How to Interpret the Works in Progress Chart
What's with the Works in Progress chart in the sidebar.
Do You Want John's Shorts in Book Form?
If you want to read these stories as God intended–at the beach, on paper, bound with a cover, and nestled inbetween other delights–just go to AnthologyBuilder.com and build your book there.
Can I Really Share & Adapt John's Shorts?
All the shorts on this page are licensed for your use with a creatitve commons copyright. This means YES–share and adapt!  The only limitations on your use are defined here: Creative Commons Attribution-Noncommercial-Share Alike 3.0 United States License.